Weekly Sports Betting Preview
Authored by: Benjamin Eckstein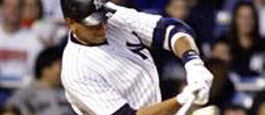 With the NBA Finals now in the books the sports betting world turns the spotlight to the diamond, with the teams around MLB facing off against some of their rivals this week. As well, Wimbledon gets underway in England, while the PGA Tour competes at the AT&T National, and the Sprint Cup Series drivers roll over to Kentucky Speedway.
Around baseball the Washington Nationals will send their top two pitchers to the mound on Monday and Tuesday against the Colorado Rockies, with Stephen Strasburg (9-1, 2.46 ERA) and Gio Gonzalez (9-3, 2.55 ERA) looking to take care of their lowly opponent and pay off on the MLB odds. The pair have a combined 211 strikeouts.
BOVADA Sportsbook Special - $100 FREE BET - Click Here to Visit Now!
Other notable series on the diamond early this week include Pittsburgh at Philadelphia, the Angels at Baltimore, Detroit at Texas, and the Dodgers at San Francisco, while on the weekend the top matchups include Washington at Atlanta, the White Sox at the Yankees, Detroit at Tampa Bay, and Cincinnati at San Francisco, with the Dodgers playing host to the Mets in this week's Sunday Night Baseball contest for MLB bettors.
On the court it's Novak Djokovic set as the 3/2 favorite on the tennis odds at the sportsbooks to be the men's champion at Wimbledon this year, with Rafael Nadal at 21/10 on those lines, and Roger Federer at 9/2. Andy Murray rounds out the top tier of true contenders for the event at 11/1 odds, with Juan Martin del Potro (40/1), Jo-Wilfried Tsonga (33/1), and Tomas Berdych (33/1) lurking at longer odds this week.
Over on the women's side of the tournament Serena Williams is pegged at 11/4 on the tennis odds to win Wimbledon once again this year, with Petra Kvitova at 5/1, Maria Sharapova at 5/2, and Victoria Azarenka at 7/1. Venus Williams and Kim Clijsters both sit at 20/1 on the tennis betting lines, with Caroline Wozniacki at longer odds of 40/1.
The PGA Tour offers up the AT&T National at the Congressional Country Club in Bethesda Maryland for golf bettors this week, while there will be NASCAR lines for the Sprint Cup Series on the Quaker State 400 at Kentucky Speedway on Saturday night. Kyle Busch won the Quaker State 400 last season, the first time it was held, with David Reutimann and Jimmie Johnson joining him as the top three drivers at the event.
Finally, football bettors can get a bit of a fix starting this week as the CFL returns to the gridiron with its first four regular-season contests. On Friday it's Saskatchewan at Hamilton and Winnipeg at B.C., while Saturday offers up Toronto at Edmonton. Sunday then wraps up Week 1 of the CFL campaign with Calgary playing host to Montreal.